SAP released S/4HANA in February 2015 to much fanfare, and the company now views it as one of its flagship products that customers will migrate to as the next-generation successor to the SAP Business Suite ERP platform. S/4HANA is intended to be easier to use and administer while helping to solve more complex problems and handle vastly larger amounts of data than its predecessors. It is available in on-premises, cloud and hybrid deployment models with SAP strongly pushing its customers toward the cloud option.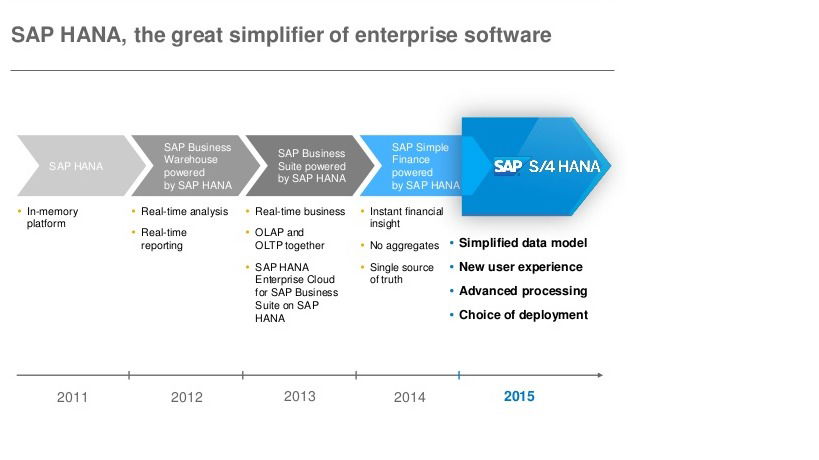 History of S/4HANA and the difference between HANA and S/4HANA
SAP S/4HANA is short for SAP Business Suite 4 SAP HANA, meaning that it is the fourth version of SAP Business Suite, but is designed to run only on SAP HANA.
S/4HANA originated in SAP HANA, the in-memory database released in 2011. SAP HANA made it possible to process large volumes of operational and transactional business data in real time. In 2013, SAP launched SAP Business Suite on HANA, a HANA-based ERP system that included modules for CRM, SRM, PLM and SCM. Suite on HANA was essentially the SAP ERP business applications' front end running on the HANA in-memory database back end. S/4HANA was written in HANA rather than running on top of it.
SAP S/4HANA required rethinking the database concept and rewriting 400 million lines of code. According to SAP, the changes make the ERP system simpler to understand and use and more agile for developers. SAP sees S/4HANA as an opportunity for businesses to reinvent business models and generate new revenues by taking advantage of the internet of things and big data by connecting people, devices and business networks.
Also, because S/4HANA does not require batch processing, businesses can simplify their processes and drive them in real time. This means that business users can get insight on data from anywhere in real time for planning, execution, prediction and simulation, according to SAP.